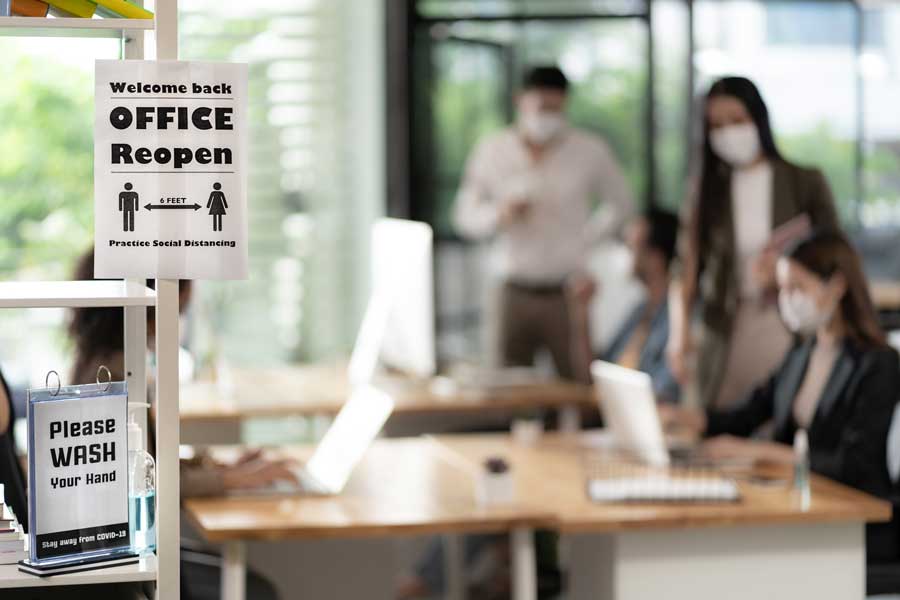 Over the past year, COVID-19 has not only become part of our daily vocabulary but changed our lives in ways that were unimaginable. From households to government agencies and especially businesses, the coronavirus has left many people confused as to the best methods to use to stop it from spreading. While the CDC has given various guidelines, it is still difficult to know how best to keep employees and customers safe. Since you as an employer want to do everything possible to avoid a potential negligence lawsuit, your best line of defense will be to implement and enforce as many CDC guidelines as possible in the workplace.
The Delicate Balance
Since each workplace is unique, it can be a delicate balance trying to figure out what will keep employees and customers safe, while at the same time deciding what will be practical for a business to continue functioning. To ensure you have a strong defense against any potential negligence claims, you should always follow CDC guidelines and do such things as:
Install physical barriers for social distancing
Require employees and others to wear PPE
Provide PPE to people when needed
Encourage frequent hand washing
COVID-19 Symptoms or Exposure to COVID-19
In the event an employee in your workplace begins to experience COVID-19 symptoms or has been exposed to a person with a confirmed case of COVID-19, there are steps you should take immediately to limit the chances of a negligence claim being filed against you and your business. To begin with, the employee should be sent home immediately to mitigate the risk to others. In addition, you should also strongly encourage them to seek medical guidance for their symptoms. Finally, they should be allowed to remain away from the workplace until they have met the CDC requirements for ending a period of home isolation.
By taking these steps to make your workplace as safe as possible for everyone, you may be able to avoid potential legal issues regarding negligence. However, should you find yourself facing such claims and know you have done nothing wrong, do not hesitate to contact Colorado Attorney Services. We can help you through difficult times by providing services such as, skip tracing, process serving, court records retrieval, and more.
By Colorado Attorney Services 2-16-2021